Schriftenreihe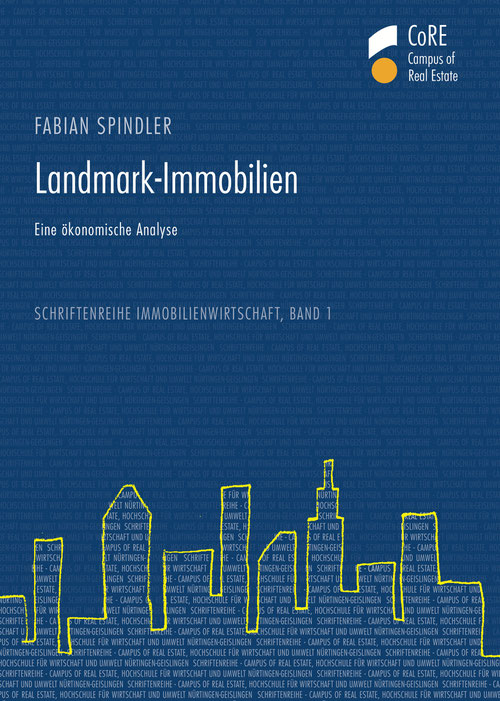 Band 1
Fabian Spindler:
Landmark Immobilien: Eine ökonomische Analyse
Trophy or landmark buildings are properties which possess an exclusive market position due to their architecture, size, location, or other criteria. Famous examples are the Chrysler Building in New York City, "The Gherkin" in London, and the Sony Center in Berlin.
They are very popular investment targets among institutional investors. The reasons for their popularity are not quite clear yet: Undoubtedly landmark buildings command top rents; but due to their extremely high construction costs and purchase prices it is doubtful whether their yields are top as well. And most likely collecting trophy buildings is a matter of prestige; but under the assumption of not completely irrational investor behavior in a not completely inefficient market it is doubtful that such a "vanity premium" can outweigh economic disadvantages.
This book by Fabian Spindler sheds some light on the trophy building puzzle. To do so he first defines the term landmark building by assembling some characteristics of well-known properties. In a second step he compares the economic and non-economic decision factors for ordinary and landmark buildings in theory and practice. He uses public and private data from a sample of over 20 properties in 7 countries. As benchmarks he uses IPD indices and the NCREIF Property Index. In addition he analyzes a survey among 84 real estate experts.
The main finding of Spindler's research is that landmark buildings show a special risk-return-profile which make them attractive for certain types of investors. Advantages of these properties are—among others—a stable market value and a low vacancy risk; disadvantages are the high prices and the small number of po- tential buyers. Furthermore Spindler finds evidence for the prestige motive. This opens an array of new research questions that hopefully will help to improve real estate investments decisions. 
Sie möchten das Buch erwerben? Klicken Sie folgenden Link.